Scott Sonnon
by TMAN Freelance Writer Ben Smith
---

Russia is beginning to emerge from the extensive barrage of styles offered to anyone's disposal to enlighten all who enter it to step into a whole new way of life and thought. Scott Sonnon was introduced to martial arts at the age of 19 when he began studying Pa Qua Chang with a retired US Airborne Ranger. He trained diligently, absorbing the material like a sponge to water. After training in that art he went to college and trained in tae kwon do, karate and others. One night, training in the wrestling room at his university, two men in tight colored jackets and shorts seemed to be wrestling while Scott and his partner sparred. Truly amazed at their Herculean feats, these men of slight build and quiet demeanor introduced him to sport Sambo. He was with that art ever since.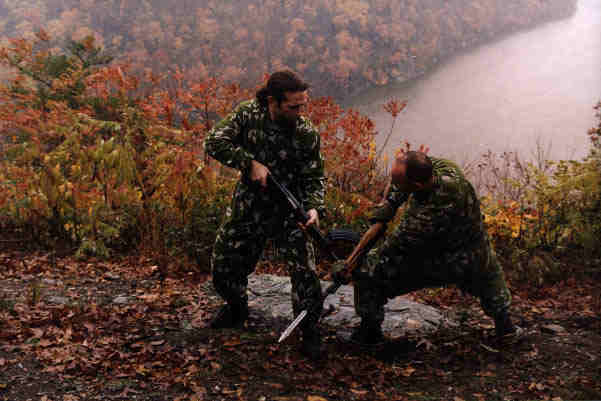 Scott competed at the 1993 World Games in Montreal, Canada, was first introduced to the Russian style of competition while representing the United States Sambo Team. Sport Sambo is the fourth style of International wrestling, while Combat Sambo is a conglomeration of boxing, karate, jujitsu and sport Sambo. The harder Scott attacked his Russian counterpart, the easier his demise against him. Although being rewarded the World Silver medal, Scott wanted to know the training background behind his Russian opponent's seemingly effortless victory. It was with Combat Sambo.
In early 1993, Scott received a Russian manual, entitled "Russian Style, Hand to Hand Combat", written by Alexander Retuinskih. Because of his involvement with Sombo, he was asked to become President of the "American Combat Sombo"in 1995.
1994 greeted Scott to his first National gold medal in Sport Sombo and being elected for the US Coaching Staff, followed in 1995 with a Pan American Gold medal and again another election as a US Sombo Coach. The name now being changed to American Sombo.
Coaching and competing at the World level still seemed unfulfilling for Scott and left him searching for more. There had to more than just the passive/ aggressive style of fighting which seemed to concentrate on the physical aspects, of being stronger and faster than your opponent.
When Scott was asked to do research into the study of Sambo in Russia, he had no idea it would lead to a direct response on his E-Mail from Alexander Retuinskih explaining that "Sambo is a pure Russian style based on Slavic martial traditions". After interviews from other Russian countrymen, Scott was to become the first non-Russian student allowed to train at The Russian Federation of Martial Art headquarters in St.Petersburg.
Russian Martial Art has been organized through a system called "ROSS" (Rossisjskaya Otechestvennaya Sistema Samozaschchite, or Russian Native System of Self Defense) founded by General Alexander Retuinskih, who will be inducted into the World Martial Art Hall of Fame World Head of Family Sokeship in Orlando, Florida USA on September 5th with a seminar
on the following day. An organization called the Russian Federation of Russian Martial Art was endorsed by the National Olympic Committee of Russia as being the official representative of Russian Martial Art within Russia and worldwide.
ROSS is available to anyone under any age or health condition while considering the least time and energy expenditure. Seminars and training are all non competitive, instead, cooperative, with the outcome of not winning or losing but increasing the awareness of survivability that lies within all of us. There are no rules, no limitations or any preconstructed 'kata' to practice, as ROSS is not a style of fight, but rather a system of methodical training, which in combat, basic motions are continuously applied until the assailant is completely neutralized. Training with the ROSS system provides a powerful physical and spiritual impact on those who choose to study it, adding to it the respect toward the national traditions. Movement is natural and free and refinement is based on the study of Russian folk dances and Slavic Folklore.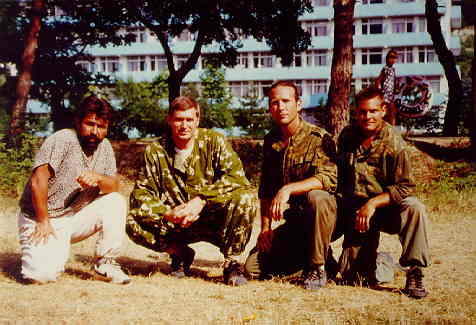 The main goal is to render the adversary harmless while minimizing the losses for all involved. It does not impose force against force or resist force with subsequent force, but rather aligns with the nature of the conflict, empowers it, and guides it to resolution. Only three martial art forms appear to have this approach, Aikido, Tai Chi Chuan and Russian Martial Art.
The doctrine of Russian Martial Art is based on the concepts of non-violence, cooperation, non-resistance and conformity. The Russian Martial Art master absorbs blows effortlessly, contorts the body to accommodate the threat and maintains contact until the assailant is rendered immobile.
There are 3 programs of study per level; 3 levels per course and 4 courses in each direction of training and 8 schools of direction.
The 8 Schools of Direction: 1. Russian Style Hand to Hand Combat and Survival
2. Renovated Sambo/ Judo
3. Executive, Private Professional and Close Protection Training
4. Bayonet Fencing with Carbines
5. Acrobatic Dance, Stunt and Theatrical Combat
6. Health System
7. Advanced Contact Sports (Football, Rugby and Hockey)
8. Hand to Hand Sport Fight ROSS
Weaponry used in Russian Martial Art includes the bayonet-equipped AK47 machine gun, SKS rifle, even earlier, carbine, the spetsnozh (special forces knife/bayonet), entrenching tools (shovels), throwing knives, batons, military belts (used as whips and immobilizing shackles), pistols, sword ( European Sabre and Cossack shashqa) and the ax.
The 1998 South Central Pennsylvania Youth Sambo Jacket Wrestling Camp will be the first implementation of the developmental Youth program. The main focus of this program is toward the youth who is always the last one to be chosen for any sport, who sometimes gets ridiculed for their lack of ability in any sport, who joins not to dominate the sport, but to participate in something they enjoy and receive positive feedback, thus, teaching them that they can develop at their own level, on their own time.
Currently, there is only one school of ROSS in the USA, called the American Academy for Russian Martial Art and Combat Skill - http:/www.redrose.net/ameross. There are two curricula : internalizing principles and creating an environment for others to internalize the principles. Part of the training is to learn to train others. "It is not in fighting 'WITH' an ability that increases our survivability, but in fighting 'FOR' ". "Russian Martial Art is not a tool we fight WITH, but a means of generating a community which we fight FOR".
Russian Martial Art participants are continuously laughing and smiling during training... during activity that others may perceive as arduous work.
Russian Martial Art is the Art of Survival. Those who choose to enter will be encompassed in a world of complete unity between mind and body. "Every human being is capable of returning to the Law of Nature, Russian Martial Art, Survival ...one path.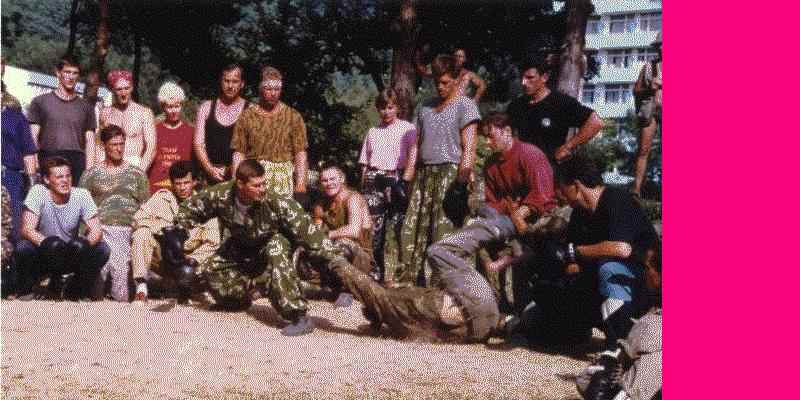 ---
TOP PHOTO: Carl Smith (former US Marine and current Law Enforcement officer who
teaches at AARMACS and accompanied Scott to Russia for training with the
Russian Federation this past spring) and I demonstrating bayonet fencing
MIDDLE PHOTO: A group photo from a training seminar in Russia of Alexander
Medvedev (RFRMA Cossack Dance instructor), General Alexander Retuinskih,
Scott, and Greg Lees
BOTTOM PHOTO:. A group photo in Russia of General Retuinskih demonstrating a unique
throw from Russian-style hand to hand combat on me for a contingent of
our training group of SpecOps men and their families

---

Ben Smith has been involved in martial arts (both hard and soft styles) for over twenty years and can be reached at
kgbfm@compuserve.com